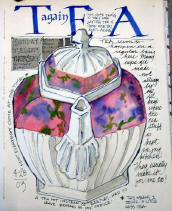 The tea was hosted by Lorna Murphy who is the new Queen Mom of her new group 'Glitter and Glitz'. Unfortunately the two pics. show shattered red hatters maybe because they are not photo hogs like the others, 'yet'.
There is a pic of Marie, QM Wini and Steph. Also Marie, QM Wini and a new red hatter Kathie that signed up in Glitter and Glitz and I might add so did the Cackling Crows. So the new group got off with a big red bang.
Also pictured is Marie, QM Wini, Kathie and Linda the creator of the smashing tea.